Let a little bit of neon into your life to brighten the dreary winter days with these pretty neon pumps in big sizes. After the big shoe excitement of the holidays we've been kinda dragging our big feet (suffering from the post holiday blues) and were in need of a spark to make the countdown to spring go a little faster and banish SAD faster than you can say acid! Thank goodness for Neon! 
It's a chic and super contemporary way to introduce a pop of color into your winter wardrobe. Even the humble pump is elevated to a fashionista style statement with the injection of the acid tones.You can choose to go all out with a single bright pop of color like our fashionistas Beyonce and Gwen Stefani, or opt for a cheeky slice of neon deliciousness for a more subtle bright.
A bit wary of the superbright day-glo tones? Dip your toe into neon (pardon the pun) for brighter days this winter with a teeny-tiny pop of neon on your big shoe. It's barely there but it'll make all the difference.
Pretty Neon Pumps in Large Sizes
The Coraline
Just like you, lady-like with plenty of attitude. The block neon yellow will brighten up your dark winter color staples black, blue, grey, purple, bring it on!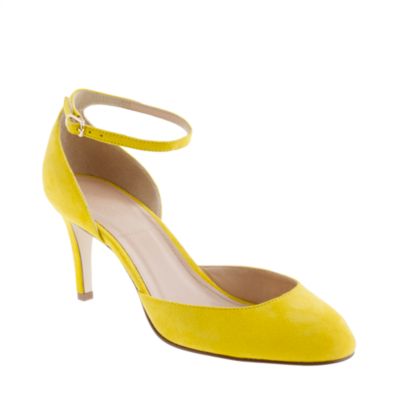 Find them now up to ladies size 12
The Dacoma
A pewter neutral pump is given a new lease of life with a slice of neon in the platform. Perfect for the office. We also love that blue heel.
Click to find them up to ladies size 13
The Leslie
A gorgeous combination of neon with our favorite neutral and an on trend lucite heel. You'll be walking on air. Literally.
Click to find them up to ladies size 11
The Rocha
There's only one word to describe these pumps. FUN! No winter blues here!
Click to find them up to ladies size 12
The Love You Too
Sexy, lady-like, with a slice of edginess with the neon yellow on the platform
Click to find them up to ladies size 12
Your big feet will be doing the happy dance all the way to spring in these pretty neon pumps in large sizes.
Banish Post Holiday Blues with Pretty Neon Pumps in Large Sizes
was last modified:
April 30th, 2013
by