It's the 15th birthday of the original Sex and the City this month and to celebrate the gorgeous shoe years, we've found some of the most iconic sex and the city shoes for women with big feet up to size 14!
We lived vicariously through the dizzying lives of our favorite stylish New Yorkers Carrie, Samantha, Miranda, and Charlotte, and they provided us with season after season of entertainment, fantasy and heartbreak, but it was the fashion and in particular the shoes, that had us drooling and wanting to be part of the gang. Carrie Bradshaw's shoe collection was the envy of every woman with a passion for shoes but the panic-inducing designer price tags and sizing issues meant that for many women with large feet our Carrie shoe cravings remained a fantasy.
Nine years after the curtains closed on the last season, Sarah Jessica Parker, who played Carrie Bradshaw in the TV series and subsequent movie spin offs, has recently announced the launch of her own footwear collection to be carried exclusively at Nordstrom in the US though at isy B. we're not sure of the sizes yet.
At Isy B. we thought wouldn't it be fun pull together a drool-worthy selection of hot shoes in large sizes that Carrie would be proud of? So we did.
Iconic Sex and the City Shoes for Women with Big Feet
The Gold Stiletto Louboutins

The Silver D'Orsay Manolo Heels
The Proenza Schouler Ankle Straps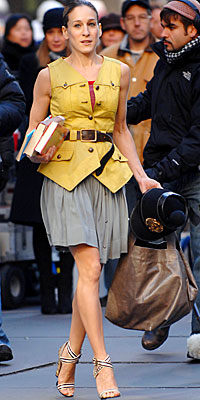 The Manolo Something Blue Pumps 
Louboutin Mesh Lace Booties
Which were your favorite shoes from the show? Do you own a SATC style shoe? Share it with us and help us celebrate sex and the city shoes for women with big feet.
Iconic Sex and the City Shoes for Women with Big Feet
was last modified:
October 30th, 2014
by